Inspired Adventure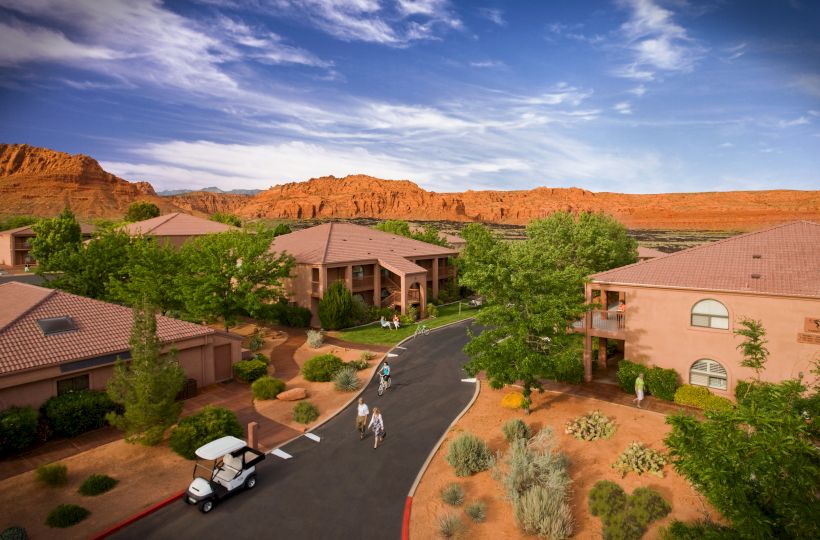 Red Mountain Resort
Your Gateway to Greater Zion's Beauty
Experience the magic of Zion at Red Mountain Resort, your all-encompassing wellness retreat located in Greater Zion. With an onsite restaurant offering delectable cuisine and a plethora of on-site adventures awaiting, our Southern Utah resort is perfect for those seeking outdoor exploration and tranquil moments of reflection.
Embrace the beauty of nature, indulge in rejuvenating wellness activities, and create unforgettable memories at Red Mountain Resort.
Relax & Recharge in Stylish Comfort
Rooms & Suites
Discover the perfect retreat at Red Mountain Resort in St. George, Utah. Our comfortable Desert Oasis rooms and spacious Villas offer a relaxing haven for your stay. Enjoy the convenience of resort amenities and take in the breathtaking views of the surrounding red rock mountains. Non-smoking rooms ensure a refreshing experience during your Red Mountain adventure.
Taste the Good Life
On-Site Restaurants
Indulge in healthy dining at Red Mountain Resort. Our wellness-inspired menus for breakfast, lunch, and dinner feature fresh, high-quality ingredients. Discover a balanced approach to food that promotes optimal health and a vibrant lifestyle. Join us on a journey of well-being and savor the flavors of wellness at Red Mountain Resort.
Unleash Your Adventure
Experience Adventure On-Site & Nearby at Red Mountain Resort in St. George, Utah - Unleash your sense of adventure with exhilarating activities, unique products, and exciting excursions, all while discovering the stunning beauty of Greater Zion and nearby national parks.
Be inspired @redmtnresort
Use #myredmountain for A Chance to Be Featured!